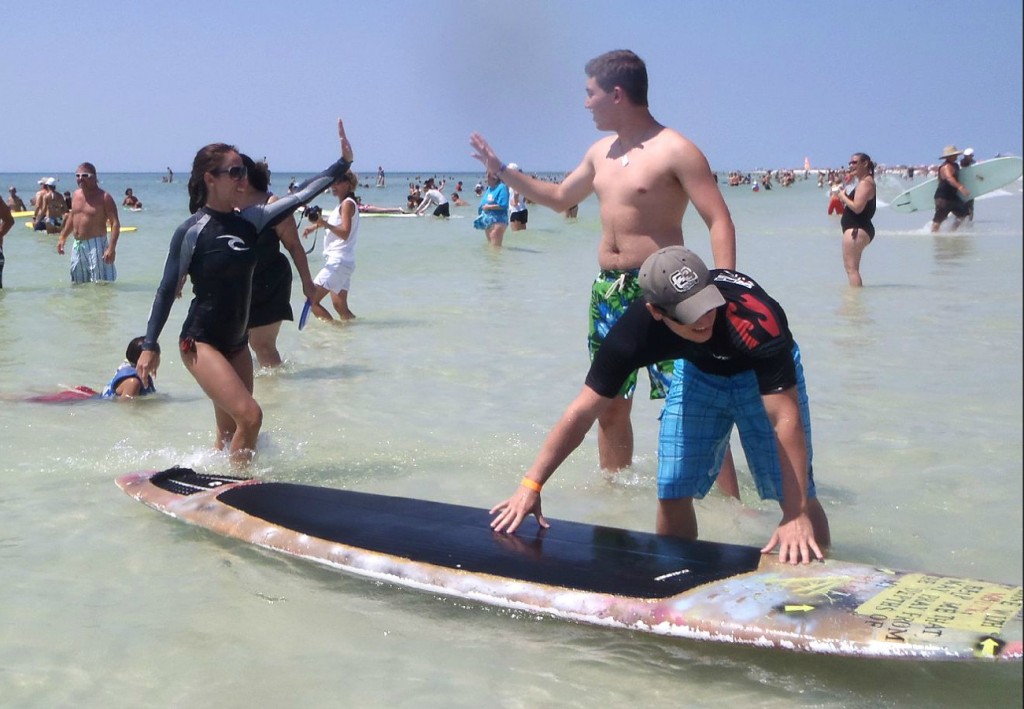 There was a time when public knowledge of autism was confined to Dustin Hoffman's performance in Rain Man. Unfortunately times have changed, autism is the nation's fastest growing developmental disability, likely affecting at least one family in your neighborhood. What was considered a rare occurrence ten years ago when it affected 1 in 10,000 children, is now considered an epidemic, affecting 1 in 90 children and rising at a rate of 30% each year. Despite these terrifying statistics, autism receives less than 5% of the research funding of many less prevalent childhood disorders. No one knows what causes autism and there is no cure.
There is no cure, but there is hope. As evidenced this Saturday at Siesta Beach. Dylan and I arrived, hungry and groggy, to the beach at 9am. It felt strange to be carrying my surfboard across the parking lot towards a flat ocean. But as we stepped through the tree line onto the cool Siesta sand it was clear that underwhelming conditions wouldn't affect the overwhelming stoke of this crowd.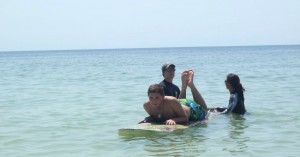 The families of children with autism are the most fearless, dedicated, tireless group of people I've ever encountered. Dylan has a friend with autism. His mom never stops moving. She is always smiling and stockpiled with gluten-free goodies. Prepared for everything, and calm through it all. I strive to be the kind of mother this woman is; never faltering, never dropping the ball. This sense of calm emanates like a force-field around the stretch of beach occupied by Hang Ten for Autism, a clear bubble of positivity that cannot be penetrated.
I get my volunteer tshirt, a cup of coffee and the best damn gluten-free muffin this side of heaven and sit by my board, waiting. Each surfer is paired with a water guide. The surfer pushes the kid into the waves and the water guide is there to assist on the inside. My partner was a darling Mote intern named Connor. "We're like a family," Dylan says as the three of us are sitting on the sand waiting to be paired with a child. My breakup with Brad has left an open role in Dylan's life and he is eager to see it filled. Any man who surfs and is nice to him is likely to receive my age, weight and phone number, unsolicited. It's funny, but it makes me sad. Connor, who is practically young enough to be my son himself, handles the remark graciously and is one of a number of surfers who make this day special for Dylan who catches more waves on this flat day than I did during the last swell.
"Surfing has been known to enhance core strength, movement, social interaction, and self esteem in children with autism." writes Kirstina Ordetx, CEO of C.A.R.E., the organization responsible for this event.
From what I can see, this is just code for: "It's magical and we can't explain it."
And it is, it is magical. You meet a kid on the beach who is locked inside himself, inaccessible to you or anyone else, even his own family. You talk, but you don't feel like he hears you. You walk out into the water together towards the horizon with a surfboard and soon it is as if a door is opened into his soul. You see each other.
I spent 6 hours getting sunburned in waist deep water, squinting into the bright horizon, pushing kids on huge boards into tiny waves. It was maybe one of the best surf experiences of my life. Mattie claimed every wave he caught, riding them all the way into the shore until the board was at a dead-stop, then high-fiving anyone within reach. He was about as stoked as anyone could be, and so was I.
What is it about surfing that has such an impact on these kids? Dave Rossman, Director of Communications for Surfers for Autism, another South Florida organization, says, "You can see some kids standing up on the surfboards and looking around for a minute, as if they can't believe mom, dad, or a therapist isn't right next to them. And some kids come running up after, yelling, 'I'm a surfer,' and they haven't talked for 24 months before that. We have heard that kids ask to go surfing after a day with us."
I don't have to be a scientist or a doctor to recognize what is happening here. I don't need to see any research. I am a surfer, so I know why it works. Mattie and I experience the same thing when we're up on that board; it is that nameless, wordless feeling, somewhere between freedom and fear, a presence in the moment that is unparalleled, miraculous. That's exactly what it is. A miracle. Don't question it.
In addition to being an amazing experience for everyone involved, events like this serve the important function of spreading awareness. I encourage you to seek out volunteer opportunities in your area. Get involved, make a difference.
A special thanks to everyone who helped to make this event possible. Special thanks to the event's sponsors: The Surfin' Plumbers, Compound Boardshop, Outback Steakhouse and C.A.R.E Center for Autism Resources and Education.